Anton have always prided
themselves on providing
solutions to make your working
day easier.
With the increased use of smart phone and tablet applications in the workplace, Anton has developed a smart new app aimed to not only improve the way you create and present your FGA reports to your customers, but also help you to manage your customers and business more efficiently.
The Anton Sprint Mobile app, which is free to download, provides useful gas rate, pipe size, ventilation, radiator output and energy conversion calculators for all engineers, whether you own an Anton Sprint Pro Bluetooth enabled analyser or not.
If you do own an Anton Sprint Pro then in addition to the useful tools and calculators, Sprint Mobile also provides seamless interaction with the analyser, unlocking the full functionality and features of the app. The full range of gas, pressure, temperature and CO room safety reports can be emailed directly to your customers.
The reports are tailored to your business with your company name, company logo and full contact details embedded in the app to create personalised PDF versions of all the reports. Landlord certificates, safety notices, gas rate calculations and other forms can be created quickly and easily, saving you time and money, whilst also conveying a very professional image of your company to your customers. Many other useful reports and features are being added to the app all the time so keep checking for updates.
The benefits extend beyond reports. Sprint Mobile provides reminders for you to book annual boiler servicing with each customer and we're working on adding quotations, invoicing and even providing a solution to take payment quickly and securely while on the site. Quotes, invoices and receipts being created and sent before you've even left the premises. Think of the time saved in chasing payments!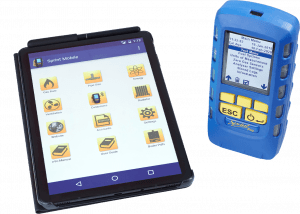 The Sprint Mobile App is available on iOS & Android.
With the increasing importance of record keeping relating to these safety critical reports, for example the recording of CO and CO/CO2 ratio now being mandatory at the commissioning of all new boiler installations, then having all your reports conveniently saved and stored under each customer on your mobile device provides you with this peace of mind. Traceability is assured: You can even ask the customer/tenant to electronically sign their reports before emailing them.
We understand the importance and value of your customer database, so for security reasons your customer details are only saved locally on your device and are not linked to any external databases or "Cloud". No-one has access to your customer information except you.
Take your business to the next level of professionalism and efficiency with Anton's Sprint Mobile app and a Sprint Pro analyser.
The most exciting new development in Flue Gas Analysers for years!